May 12-16, 2014
Raleigh, North Carolina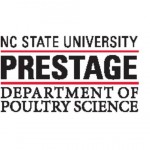 Objective
To provide updated scientific and technical information and hands-on experience to improve commercial poultry production.
Learning Opportunities
Classroom Instruction
Interaction with:
- Poultry scientists with worldwide experience
- Industry personnel
- Veterinarians
Laboratory Exercises
Tours to:
- Feed Mills
- Hatcheries
- Breeder and Grow-out Houses
- Processing Plants
Program
Breeders, Incubation and Hatchery Management
Broiler Breeder Management – J. Brake
Turkey Breeder Management – J. Grimes
Incubation Biology and Principles Hatchery Management – M. Wineland
Troubleshooting Incubation – M. Wineland
Impact of Incubation on Live Performance – M. Wineland
Nutrition, Feeding, and Feed Mill Technology
Poultry Nutrition – P. Ferket / E. Oviedo / K. Anderson
Feed Mill Management – P. Ferket / C. Stark
Feeding Practices – E. Oviedo / J. Grimes / K. Anderson
Modeling and Operations Research – E. Oviedo
Nutrient and Waste Management – P. Ferket / J. Grimes / M. Wineland
Management and Production
Broiler Management – E. Oviedo
Layer Management - K. Anderson
Turkey Management – J. Grimes
Lighting Programs – M. Wineland
Ventilation and Brooding – S. Shah
Economics and Decision Making
Health, Welfare and Food Safety
Pathology
Vaccine Management and Marek's Control
Biosecurity and Disease Control – D. Carver
Insect and Rodent Control – M. Stringham
Poultry Welfare – K. Anderson
HACCP and Pathogen Intervention Strategies – Doug Smith
Accommodations
Participants will be housed in the Brownstone Hotel (Double Tree by Hilton) adjacent to the NC State campus. A University representative will meet you at the Raleigh International Airport (RDU) on Sunday, May 11 before noon, to transport you to the hotel. Arrangements will be made to transport you back to the airport on Friday afternoon, May 16, or Sunday, May 18, if you will participate in the Feed Manufacturing Short Course. 
Initial Meeting on Sunday May 11, 2014
We expect to meet All participants in the Lobby of the Brownstone Hotel (1707 Hillsborough Street  Raleigh, NC 27605, (919) 828-0211) in Raleigh on Sunday May 11, 2014 at  2:30 pm.   Please make plans to arrive to Raleigh before noon Sunday May 11, 2014.
The Meeting on Sunday May 11, 2014 is Very Important for Introductions, Instructions, Distribute Materials, Explain Background of Contents and show you the University.          We will Not have time to repeat this Information during the week.
Registration Fees
The cost of this course is US $1,600 per person if housed in double bedrooms (you have to indicate the roommate), or US $1,800 if housed in individual hotel rooms. It includes training, educational materials, local transportation, laboratory materials, t-shirt, lodging and all meals from May 13 to 17 (breakfast, lunch and snacks) EXCEPT the evening meals. These fees DO NOT include air transportation to RDU Airport, health insurance, spending money and incidental expenses.  For registration and payment please contact edgar_oviedo@ncsu.edu. 
Cancellation Notice:
Prior to three weeks = No charge, all fees will be reimbursed after the Course (July).
Within last two weeks = Half of enrollment fee will be charged. If we receive a communication, all fees could be applied to next year's Course without additional charge.
Within one week prior to the Course or No show = Entire enrollment fee
Phone: +1 (919) 515-5391
Fax: +1 (919) 515-7070
This is an additional course that will provide updated scientific and technical information and hands-on experience to improve commercial poultry production. (Click here to go the the Feed Manufacturing Short Course webpage.)
For additional information contact:
Dr. Edgar O. Oviedo-Rondón
North Carolina State University
Cooperative Extension Service
Department of Poultry Science
229 Scott Hall
Raleigh, NC 27695-7608
Phone: +1 (919) 515-5391
Fax: +1 (919) 515-7070
E-mail: ncsupoultrycourses@ncsu.edu